We traveled from Chico California over to the coast and down highway 1 starting at Big Sur.  We camped in the redwoods and headed for the beach outside of Santa Barbara.  We worked our way through LA and landed in San Diego at UCSD.  It wasn't until editing the photos from our week on the road that I realized each of these young, firey women had delivered a fuck you to the camera.  After reflecting on it I realized there was a valuable lesson wrapped up in each "fuck you" and I treasure the audacity of each one.

Ashlyn's "fuck you"…

I am who I am and fuck you if you don't like it.  Not go fuck yourself – just deal with your own shit.  So what I smoke.  I asked her how she can smoke in public knowing what people "our people" – the upity, pure, organic eating, latte drinking, Prius driving yuppies would think about it.  She said "Do you want me to hide it?"  Profound, I thought:  yes, but that is stupid.  On further reflection: "No,  "I don't want you to do it." But that is on me.   Ash has
hiked the PCT and AT alone.  She has had plenty of time to think and act on her own behalf.  It's worth mentioning that she quit on our trip.    Ashlyn will make you laugh and give you the freedom to embrace the ecstatic part of yourself.  You get to be you. Period – unless you haven't let your hair down and then you get to be schooled in the art of being you and pushed to the edge of being you and then pushed over the edge of being you into the fields of freedom.  Hers is a direct and raw, organic, hilarious brand of beauty.
Maya's "fuck you"…
Maya is mysterious.  Her fuck you is an existential fuck you that might take you years to figure out and ultimately it would only have been for your own good.  Maya comes at you sideways and makes you think.  She is fresh and deep and curious by nature.  Maya is a world traveler but won't hang her hat on it for a second.  In fact, Maya is dogged in her humility and invites you to stay real with her ~ she demands it but creates a warm space to roll around under the stars with you and contemplate the existence of things like human judgement and virtues of peanut butter sandwiches.  Her beauty is humble and refined, deep, with frill around the edges.
Addy's "fuck you"…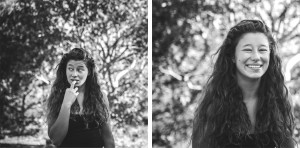 Adelei is an inspiration.  Her's is a "fuck all the stuff in you that holds you back", never a "fuck you."   Addy is on her path and there is a place at her side for you: confident and strong, radiant and daring.  Addy cares deeply, so deeply in fact that she won't tolerate your bullshit.  She won't judge you either.  There is an invitation, a request actually, from Adelei to disregard the distractions and dive head first into experience.  Through experience we find ourselves and drive deeper into new territory.  Addy will have the gear packed the lists made and the food ready for the trip of a lifetime and there is space for you to rise into your fullest self if only you will watch and learn how she does it.  Adelei is my daughter and she is nothing like me.  I marvel at her.  Addy's beauty is real, deep, confident and strong, warm and precious.